10 Simple Monthly Budget Templates in Google Sheets
Creating a monthly budget can help you take control of your finances. Using a free spreadsheet can help make the budgeting process easier. But how do you find the best budget template for your needs?
With so many options available, it's tough to know where to get started. Reddit, Tiller Money, Finance Twins, and more offer simple monthly budget templates in Google Sheets that can help you get your finances headed in the right direction.
1. Monthly Budget Template by Google Sheets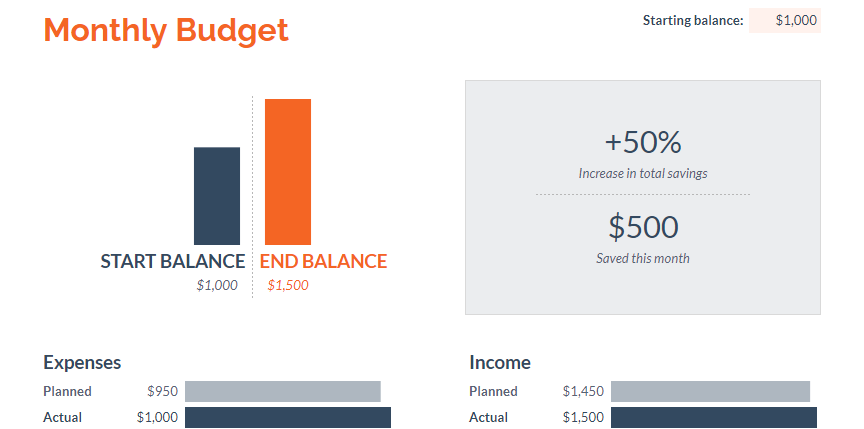 If you're looking for a solid budget template, why not start with the one Google created themselves? This simple monthly budget template is available directly in your Google Sheets account.
It has two tabs. One is for your budget plan and the other is for your transactions. The graphs give you a quick snapshot of how you are doing for the month.
There's even a simple savings tracker that shows how much you saved each month.
You can grab your free copy of the budget template here.
2. Tiller Money Foundation Template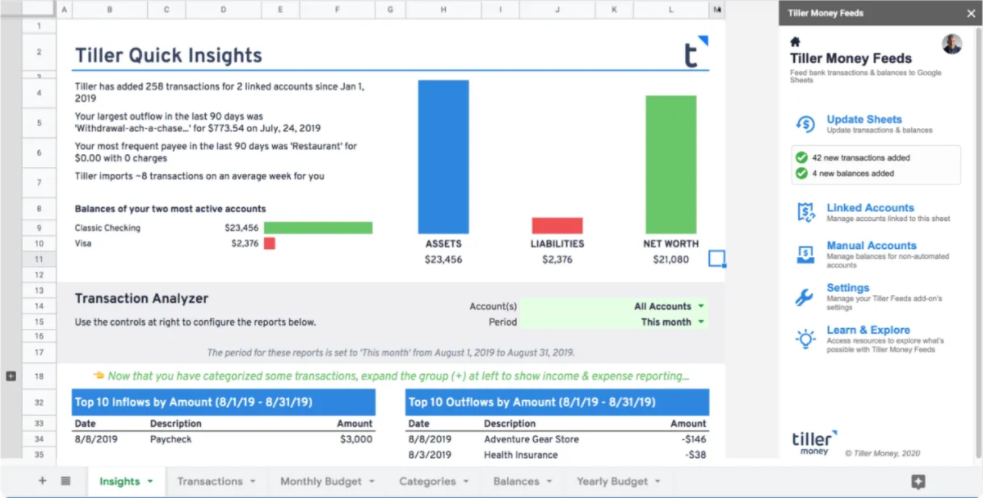 For a more comprehensive budget template, consider the Tiller Money Foundation Template.
Tiller Money helps give you a complete financial snapshot, including tracking your debt and total net worth. Tiller can even pull in your bank account transaction data for you automatically. This takes the hassle out of tracking every expense.
If you want all the details of your finances in one place, try out the Tiller Money Foundation Template for free here.
3. Finance Twins' Monthly Budget Template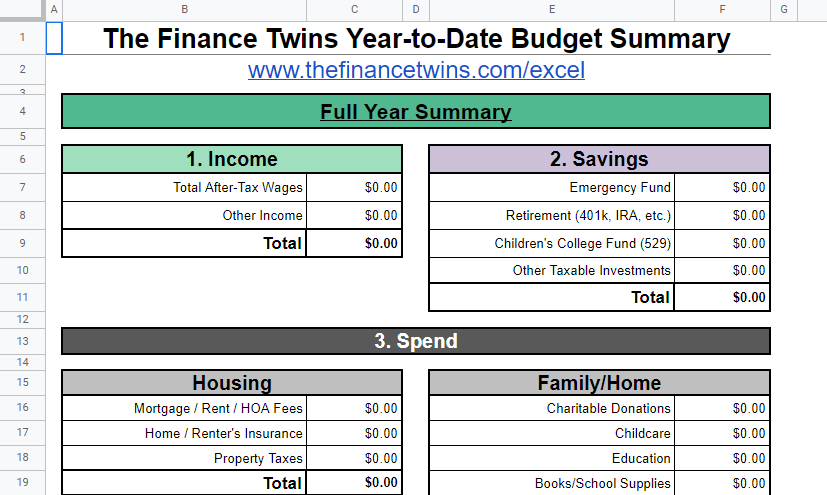 This simple monthly Google Sheets budget template from the Finance Twins gives you a perfect way to organize your finances. With a tab for each month and a year-to-date summary, you can watch your financial progress throughout the whole year.
Everything is color-coded and easy to follow. Grab your copy here and get started today!
Related: 25 Best Google Sheets Expense Tracker Templates
4. Smartsheet Family Budget Template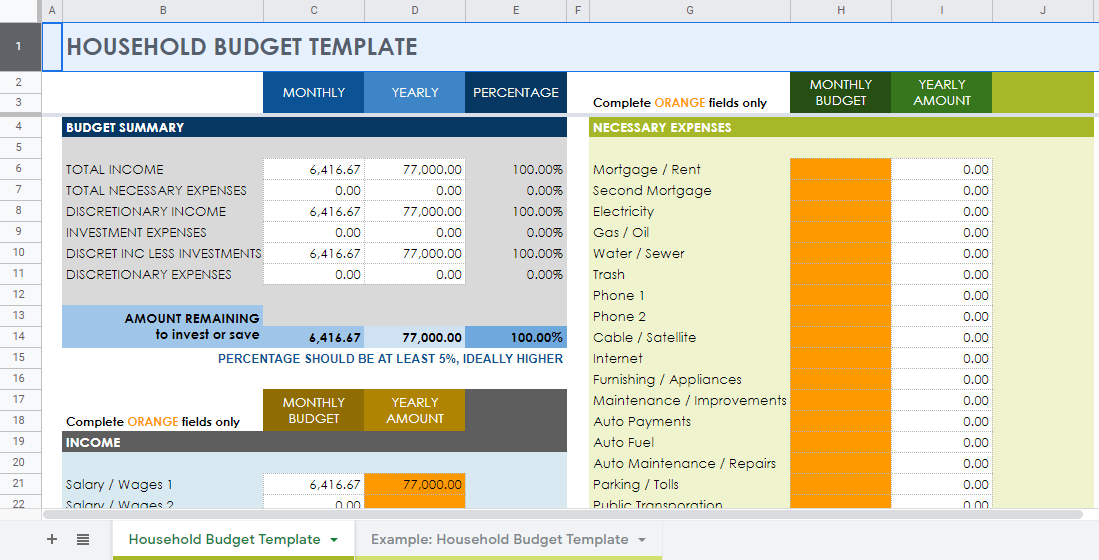 The Smartsheet budget template gives you a simplified summary of your monthly expenses at the top. It also breaks out each category to make sure you don't miss a thing.
This template even shows you the annual cost of your expenses so you can see how much you are earning and spending in total for the year.
If you want a quick 1-page budget template, you can get a copy of this Google Sheets budget template here.
5. Measure of a Plan Budget Tracker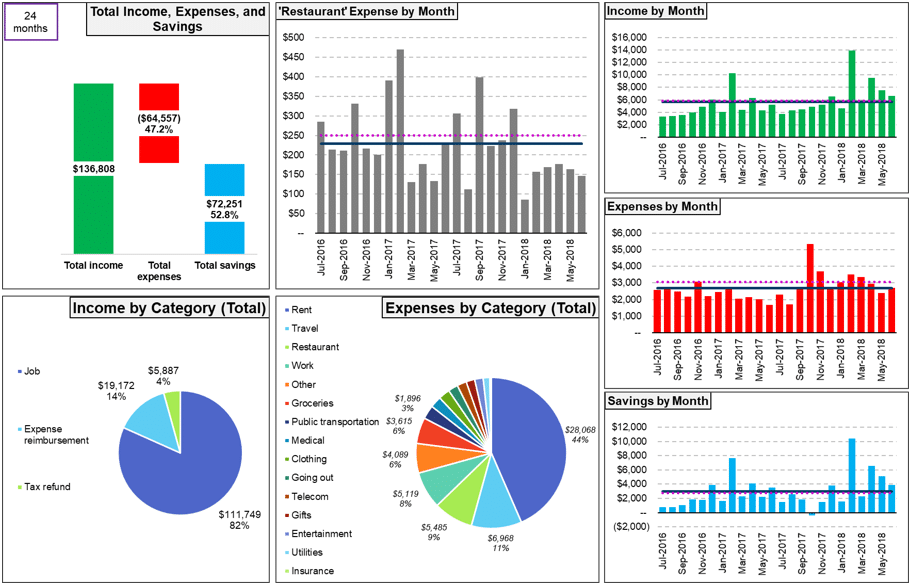 Do you love charts? How about graphs? Maybe you're a fan of color-coded pie-charts? Then you might want to snag your copy of this budget template from Measure of a Plan.
This template gives you all the info about your budget, including a summary of spending by category over time, a breakdown of your savings each month, and a historical comparison of your spending.
If you want to track your income and expenses while seeing the trends in your financial life over time, get a copy of this tracking budget template today.
6. 50/30/20 Google Sheets Template by Simple Budget Planner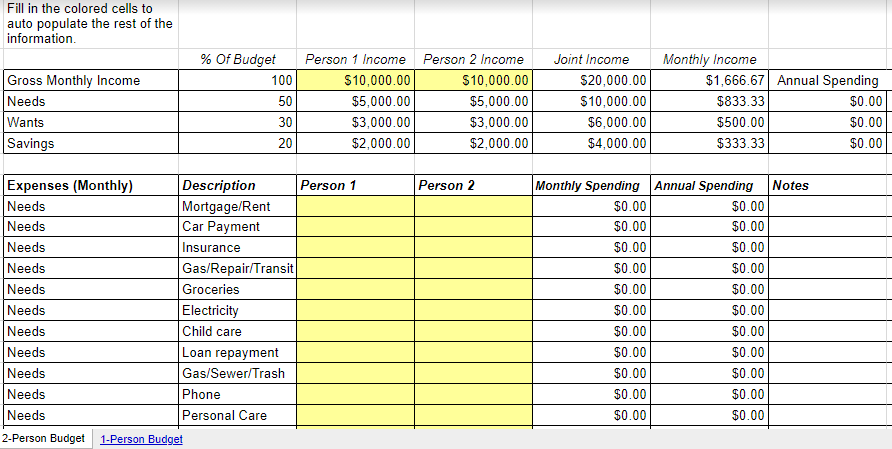 Have you heard of the 50-30-20 budget? It's a simple way to break down your monthly budget by percentage. Here's how it works:
50% of your budget goes to needs
30% of your budget goes to wants
20% of your budget goes to savings
If you allocate your money toward those three categories, you will automatically save 20% of your income.
To get some help doing the math, grab this Google Sheets template by Simple Budget Planner. This template will automatically allocate your spending between needs, wants, and savings to show you if you're on track for the 50-30-20 allocation.
Related: Why Undebt.it Beats the Best Debt Payoff Spreadsheets
7. Budget & Transaction Template by Greenshift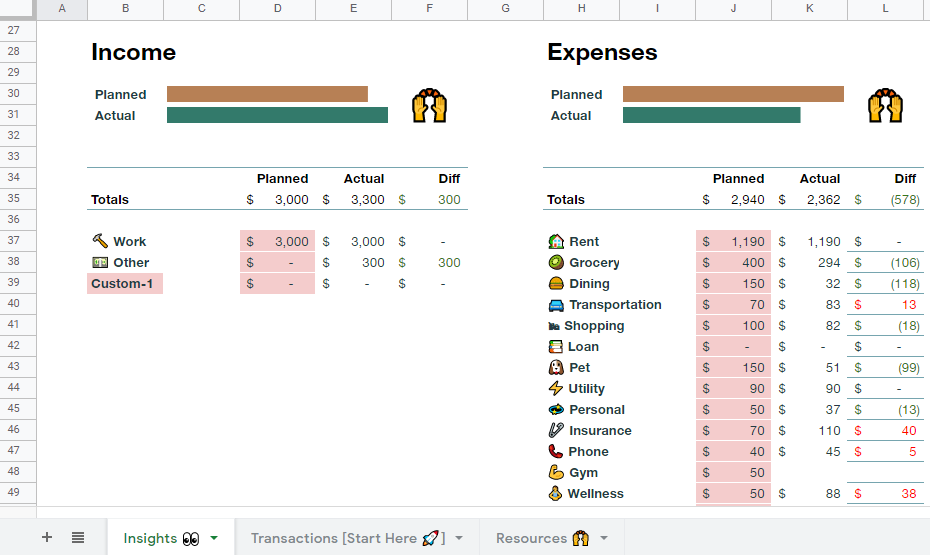 Do you like emojis? Then you might be excited to organize your finances using this Google Sheets budget template by Greenshift.
You can break down your income and expenses on the main budget tab while tracking your expenses on the transactions tab. If you happen to overspend, you will immediately see this on the main budget since your spending will turn red.
If you like fun emojis and a responsive budget that will alert you when you spend too much, consider getting a copy of this Budget & Transaction template by Greenshift.
8. The Penny Hoarder Epic Google Sheets Budget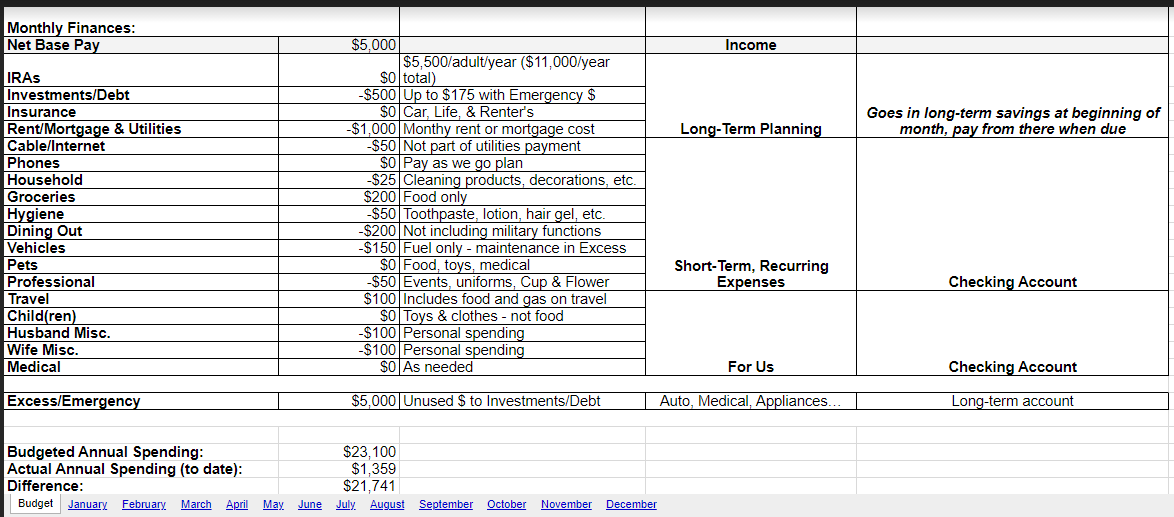 The Penny Hoarder is famous for giving creative, helpful advice on making extra money. Writer Melissa Shaw put together this budget template to help her family save 60% of her income in one year!
What you'll first notice is that she put her savings and investments at the top of her spreadsheet, showing her focus on "paying yourself first" before anything else.
There's a tab for every month of the year. There's also a full summary page to show you how things are going.
If you want to be like Melissa and save 60% of your income, check out her budget template here.
9. Annual Budget Template by Google Sheets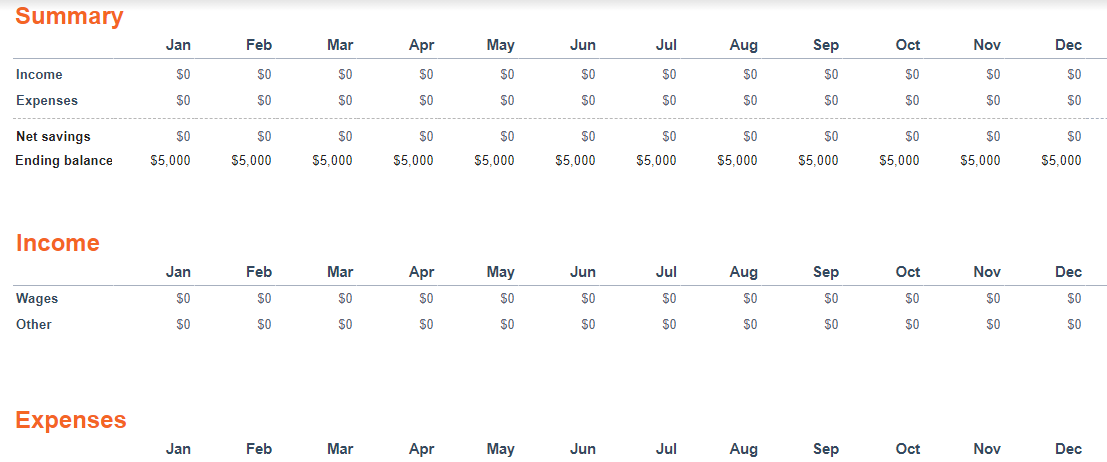 If you're a fan of seeing everything on one page, you might like the Annual Budget Template created by Google.
Instead of just focusing on a single month at a time, you can plan out your entire year in one place. Add in your anticipated income for the year. You can then go line-by-line and plot out your total annual expenses.
Once you've added your income and expenses, you can see your planned savings each month and for the year.
Google makes it simple, so grab your copy of their annual budget template here to get started.
10. Reddit Budget Template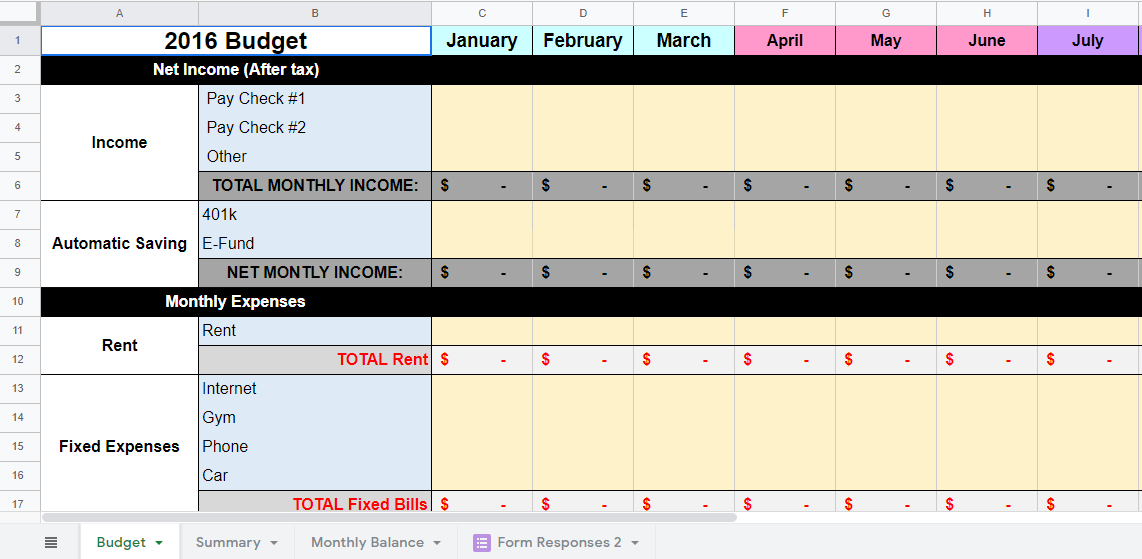 Following the /r/personafinance reddit forums are a great place to learn about money and get started on your financial journey.
One of our favorite budget templates from reddit comes from user "cooledtube." It's another annual template that gives you a total snapshot of your yearly finances. But this one is different in that you enter your expenses in a Google Form document.
The creator of this template says they created a shortcut on their phone for the Google Form to enter expenses on the go and keep their budget up to date.
If you want to learn more about this template, read the thread here. Then grab a copy of the Google Sheets template here and the Google Form template here.
Pay Off Debt Faster Using Your Budget
After you find your favorite budget template, the key to mastering your money is actually using it. Make sure to plug in your numbers and track your expenses during the month.
Remember that the point of budgeting isn't just to track what you spend. It's to free up as much money as possible to start tackling your big goals.
For many of us, paying off debt is the #1 financial goal in our life. Getting rid of unwanted credit card debt, paying off our cars, or finally paying down those student loans would be a huge weight off our shoulders.
Here at Undebt.it, we make paying off debt our #1 priority and have put together some of the best tools available to help you get there. If you want to use your budget to its full potential, check out how to use our Debt Snowball tools to organize and optimize your debt payoff plans.
The Undebt.it Debt Snowball Calculator
Paying off debt can feel overwhelming, but having a tried-and-true plan in place takes the stress out of the equation.
The Undebt.it debt snowball is our favorite financial tool for helping you pay off your debt quickly. Here's how it works:
Input all of your debt details into your Undebt.it account, including interest rate, current balance, and minimum payment amount.
Undebt.it will automatically sort your debts by balances (from smallest to largest).
In the Dashboard, you will see all the details of your debts, including how soon you can pay them off.
As you make payments on your debt, input them into Undebt.it and follow your progress every month.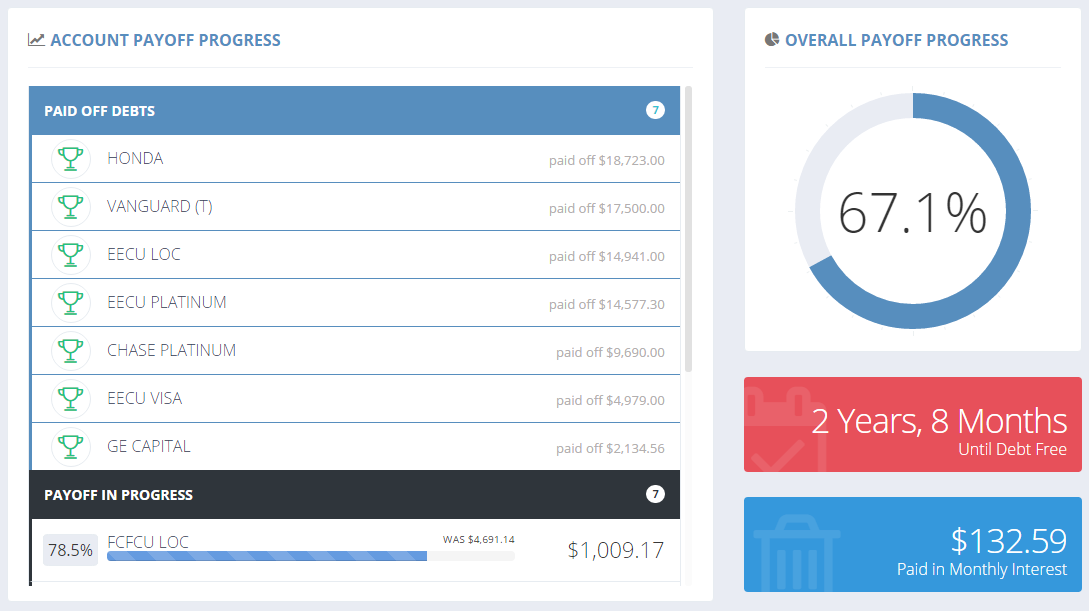 Everyone's financial situation is unique. With the simple click of a button, you can compare different debt payoff methods, including the Debt Avalanche, Debt Hybrid, Highest Monthly Payment, and even a custom option.
Whatever path you choose, using Undebt.it as your debt payoff companion will help you stay on track and become debt-free sooner.
To get rid of debt as fast a possible (and forever), test drive a free Undebt.it account today!