YNAB Review 2021: The Best Budgeting App?
You Need A Budget (YNAB) is a top-ranked budgeting app. In fact, you'd be hard-pressed to find a YNAB review that doesn't have positive things to say. YNAB users report an average of $600 saved within the first two months of use and over $6,000 saved within the first year.
But does it really live up to the hype? We've broken down all the details (including how you can integrate YNAB with Undebt.it) in our You Need a Budget review.
What is YNAB?
YNAB is short for "You Need A Budget" and is the brainchild of founder Jesse Mecham. Founded in 2004, Jesse realized that he needed to start managing his money better. As a result, he started building and selling custom excel spreadsheets. In 2007, he partnered with a developer to create the YNAB software.
YNAB has since added tens of thousands of users and is supported by a 100+ person team as they continue growing and evolving their product. It is a pure budgeting app focused on helping users organize the details of their day-to-day finances.
What are the Four Rules of YNAB?
YNAB is built on four simple but powerful rules to help you take control of your money.
Rule #1: Give Every Dollar a Job
YNAB was created based on the idea that every dollar you earn should be told where to go, stopping financial waste in its tracks. So, instead of simply spending money because it's in your bank account, you give every dollar an assignment.
Why this matters: By assigning a purpose to every dollar you have, you can avoid frivolous or mindless spending. You establish goals and stay on track with your finances, helping you avoid (or overcome) debt. In turn, this will help improve your financial health.
Rule #2: Embrace Your True Expenses
Budgeting only for your regular, monthly expenses is a great place to start. However, it's not a complete financial picture. YNAB is designed to help you plan for larger, less frequent expenses so you don't have a financial meltdown when those irregular expenses come up.
Why this matters: YNAB has built-in goal-setting to help you break down bigger expenses into a smaller, more manageable monthly amount. This will help you avoid blowing your budget and keep financial stress at a minimum.
Rule #3: Roll with the Punches
YNAB believes that budgeting should be flexible. They built this into the software by allowing you to transfer money between categories easily. If you overspend in one category, you can cover the difference by transferring excess funds from another category.
Why this matters: No budget is perfect. By allowing your budget to be flexible, you can stop stressing about blowing your budget and simply cover it with extra funds from another category instead.
Rule #4: Age Your Money
YNAB believes that you will have complete control of your finances when you are spending money that you earned at least 30 days prior. They built this into the app by tracking how long ago you earned the money you are spending. They call this your "Age of Money," and they use it to help you track when you are finally a month ahead of your money.
Why this matters: Living on last month's income allows you to stay ahead of your finances and stop worrying about when bills are due. This gives you the ultimate peace of mind and the ability to start setting clear financial goals.
How Does YNAB Work?
YNAB syncs with your financial accounts to keep you up to date on your day-to-day money situation. You set your monthly budget based on the money you currently have in your account.
This means you can only allocate the funds you have available and that you must wait until your next paycheck arrives to allocate the rest. This prevents you from spending more than you make and allows you to take immediate control of your finances.
You can also set goals like debt payoff and savings, helping you break down those more expensive priorities into a manageable monthly amount.
YNAB is a zero-based budgeting app. This means that you assign every dollar a job, even if that job is "pay off more debt" or "add to savings." After accounting for your regular monthly expenses, you don't want to leave money sitting in your account, so YNAB forces you to put it somewhere.
YNAB is a true budgeting app and doesn't have the extra bells and whistles other apps might offer. But their laser-like focus helps you customize and manage your budget more effectively than most apps on the market.
How to Set Up Your Budget in YNAB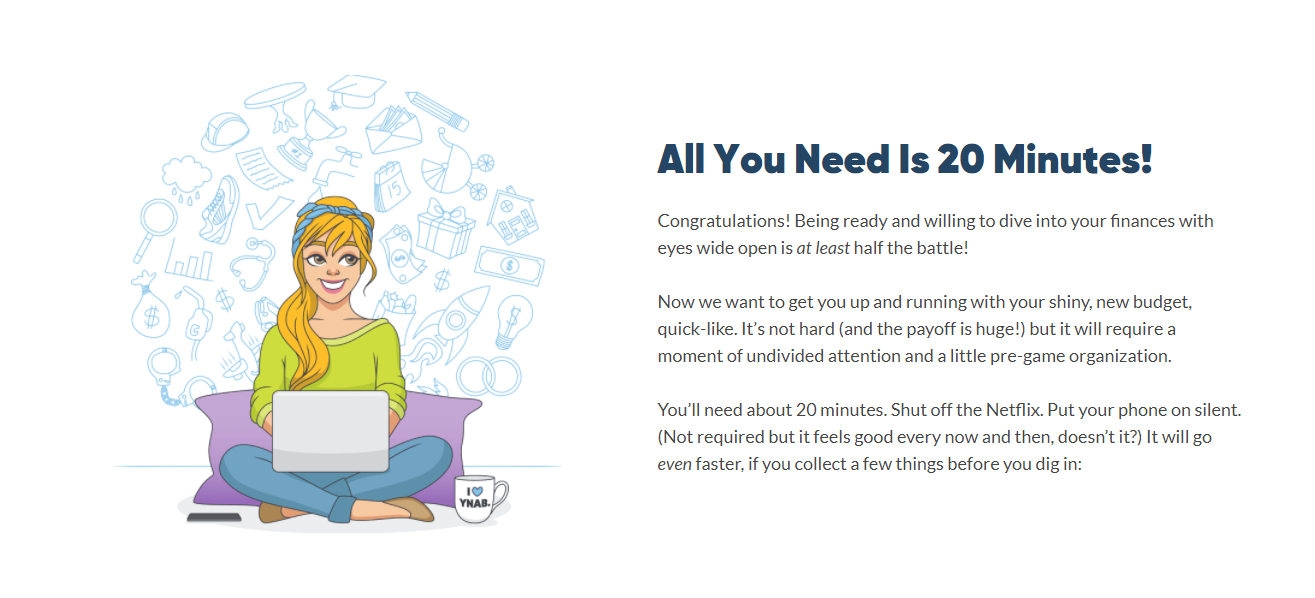 To set up your budget in YNAB, you simply sign up for an account (free for the first 34 days) and open the app. It will be pre-loaded with a budget template, complete with categories.
Next, connect your bank accounts, including checking, savings, and credit cards. Make sure to connect any accounts that you use regularly during the month. YNAB will allow you to "link" your accounts to pull in your banking balances and transactions automatically.
Once everything is connected, your current balance will be the starting point for your budget.
Enter your monthly expenses, including upcoming bills, daily expenses, and any one-time expenses for the month. This will give you a quick snapshot of your upcoming spending for the month.
Note: YNAB will throw errors if you budget more than you currently have available. Simply budget your bills and expenses until your next paycheck comes in.
That's it! Your budget is now all set up and you are ready to track your spending. YNAB will automatically pull in your transactions so you won't miss a thing.
How Much Does YNAB Cost?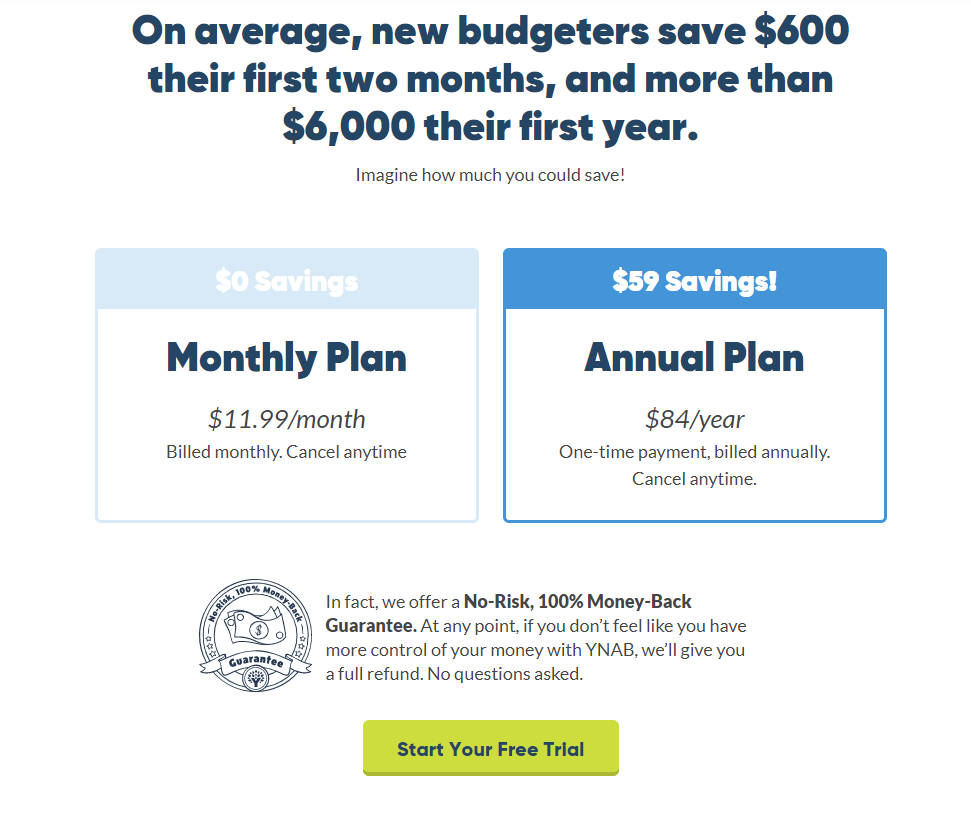 YNAB gives every user a free 34-day trial to test out their software. This is a pretty generous trial period. They won't even ask for your credit card.
After your trial period is over, YNAB has two options for payment:
$84 per year on the annual plan ($7 per month)
$11.99 per month on the monthly plan
Considering the 40% discount on the annual plan, this is the best deal.
YNAB also offers a 100% money-back guarantee at any time. No questions, full refund.
YNAB Features
YNAB offers some of the best budgeting functionality on the market. With a good blend of automation and accountability, it's pretty easy to see why users are reporting debt payoff numbers in the tens of thousands within a few years.
Automatically Sync Your Bank Accounts
In 2018, YNAB upgraded their service to build out a web-based application. They also added automatic syncing of bank accounts and other financial institutions.
This takes the headache out of recording your spending every day and allows you to simply review your expenses as they are paid.
YNAB takes a slightly different approach than most budgeting apps in this area. Rather than simply importing your spending, they instead alert you when new transactions arrive and ask you to "clear" them. This keeps you accountable and aware of what is happening with every dollar, helping you take charge of your budget instead of simply ignoring it.
Recently, YNAB added a new feature that allows you to see "pending" transactions before they clear your account. This gives you more real-time data on your spending.
Detailed Financial Reporting
YNAB has been adding reporting features over the years and now boasts a robust suite of financial reports to help you review your money at a glance.
There are three levels of reports you can view:
Spending Reports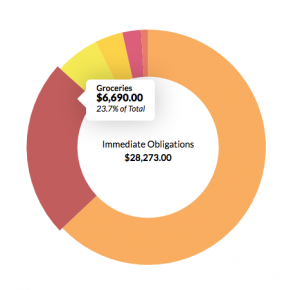 These reports will give you a nice, color-coded pie graph to show where your money is being spent. You can set the dates you want to look at and filter by category or account.
In addition, there is a "Trends" tab to see your spending over time (month-to-month).
Net Worth Tracking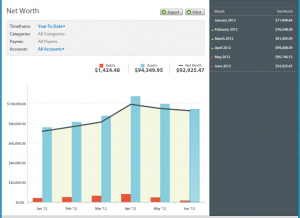 As a very basic feature, YNAB will track your net worth over time. This provides you with a trendline of how your net worth is growing (or shrinking) month over month. It also shows both your asset and debt totals.
Income vs. Expense Totals

This report breaks down every income and expense, showing you all the totals in each category. It will also track your "net income" to see how much you are saving each month (or if you are spending more than you make).
This report is for people who love details and is a great way to see all your spending on a single page.
Free Education Videos and Workshops
In addition to a top-notch budgeting app, YNAB offers free educational videos and even live workshops to help you budget better. Better yet, they don't just cover using their software. They also cover best practices for budgeting, goal-setting, paying off debt, and saving money.
Additionally, they offer video courses to walk you through more detailed concepts and show you exactly how to set it up in YNAB. They provide the deepest learning library of any budgeting software on the market, period.
YNAB Apps
YNAB is offered in multiple forms, from their full-featured web app to their robust mobile apps, an apple watch app, and even an app for Alexa.
No, really!
"Alexa, how much is left in my food category?"
You can budget on your favorite device, at home, or on the go. You can even yell at your budget with their YNAB Alexa skill.
Start budgeting on the go with YNAB.
YNAB Referral Program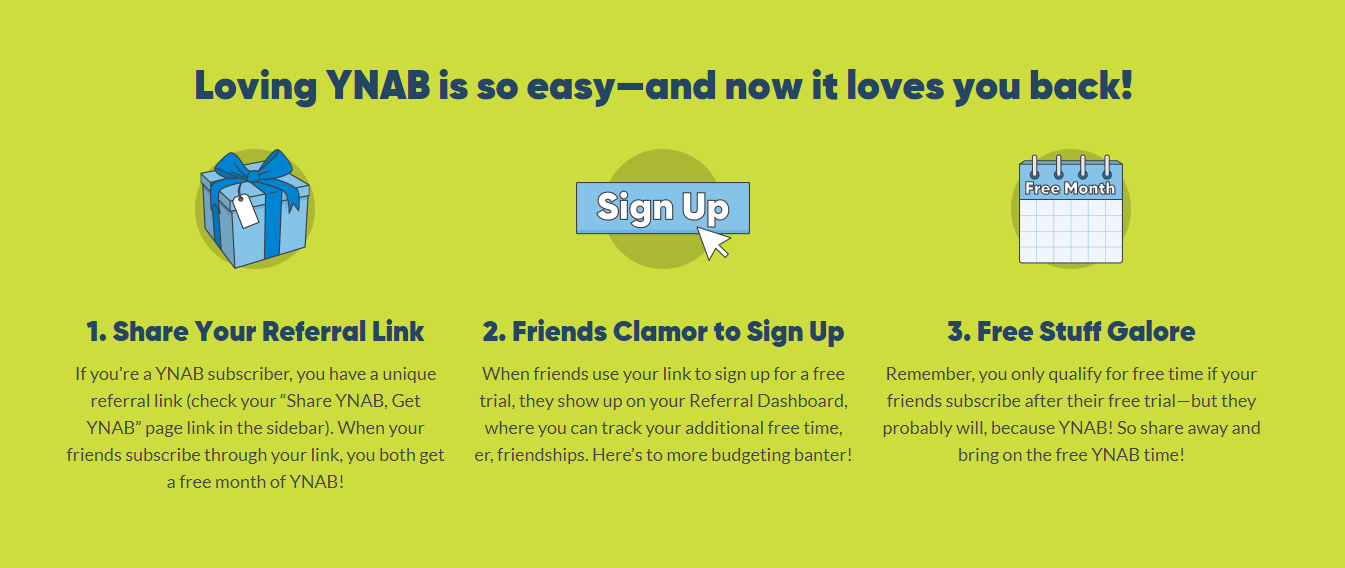 YNAB has a generous referral program for fans of their app. Once you have an account, simply send your referral link to a friend. If they sign up, you both get a free month of YNAB service.
YNAB is FREE for College Students!
If you are a college student, YNAB is free. Why do they do this?
In their own words:
"Because we hate student debt as much as the next guy, maybe even a little bit more."
If you are a college student, you can sign up for YNAB and simply email them proof of enrollment to access YNAB for free.
YNAB Pros & Cons
YNAB has a ton of great features, but also a few things that could be improved. Here's a quick list of pros and cons.
Pros
34-day free trial (no credit card needed)
Built-in accountability requiring you to live within your means
The best educational resource library of any budgeting app
Huge "help" library built into the app and fast chat response times
Free for college students
A generous referral program
Easy integration with Undebt.it
Cons
No phone number for customer service
Costs more than some other budgeting apps
Not the best for investment tracking and analysis
Using Undebt.it with Direct YNAB Integration
Did you know YNAB can directly integrate with our tools? You won't find this fun fact in any other YNAB review.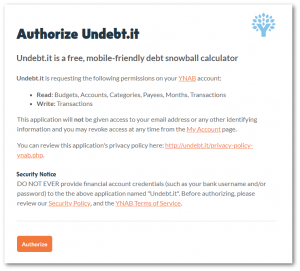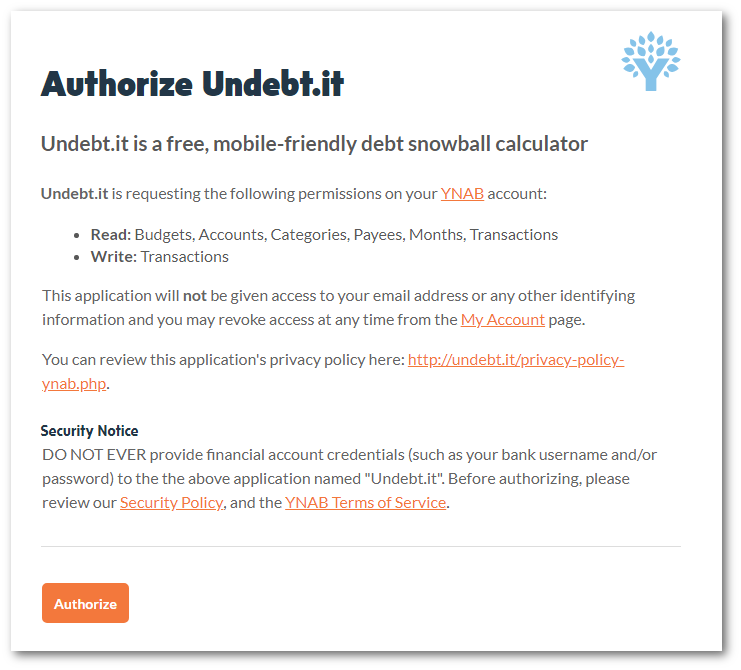 This integration allows you to track your debt payoff with Undebt.it, completely in sync with your YNAB budget.
Your debt account balance within the Undebt.it app will sync with YNAB, keeping it current as you make payments. Undebt.it will automatically bring over your credit card and other debt payments, updating your debt payoff progress.
To connect your account, you will need a YNAB account and an Undebt.it+ account.
Once they are both live, you can simply go over to our YNAB Sync Page to connect our tools. You can find all the details of connecting these two accounts here.
Bottom line: YNAB + Undebt.it = Destroy Your Debt Quickly!
YNAB Review: The Verdict
As you can probably tell based on our YNAB review, we're big fans. Not only for their fantastic app and tools, but their company's mission and education are next to none. Better yet, they are just about as passionate as we are about paying off your debt forever.
If you want to give YNAB a spin for free, check out their 34-day free trial. It might just change your financial life.
And don't forget to integrate with your Undebt.it account to take your financial planning and debt repayment plan to the next level.