How to Use the "Easy Mode" Interface
At Undebt.it, I want to make your debt repayment journey as simple as possible. In 2019, I created the Easy Mode interface to help accomplish this goal.
Since its original launch, I have made some additions to the page. Here is a refresher on how it works.
What is Easy Mode?
The Easy Mode interface was developed to be a single page experience for people who don't like clicking around on different pages. Everything you need is on one page in an easy-to-use interface.
Easy Mode is available even if you have a free account.
Paying off Debt is as Easy as 1-2-3
Here are the three steps to use Easy Mode. It really is as easy as 1-2-3.
Step 1: Set Your Monthly Debt Budget
Step 1 is where you can change your total monthly debt budget. This is the total amount you can pay towards your debt (including your minimum payment plus whatever extra you can snowball towards debt). In the example below, I have a $1,000 monthly debt budget with debt accounts that have a total minimum payment amount of $548. That means that my debt snowball amount is $452.

The Payoff Stats section shows you some key information like your debt snowball amount and minimum payments. A green checkmark means that you have met your debt payoff goals for the month.
Step 2: Debt Account Tiles
Step 2 is where you will spend most of your time on this page. It's a compact version of the Debt Dashboard page that you're all familiar with. You can manage your debt account here, including recording payments and adjusting the balance as needed.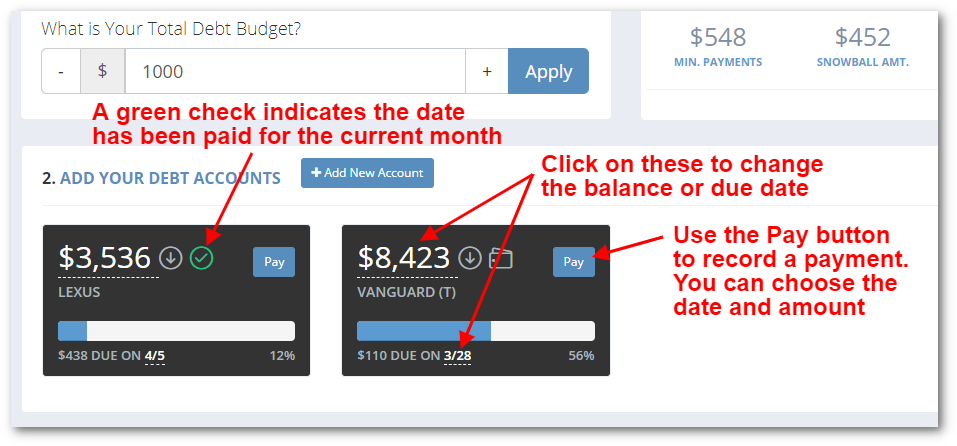 These compact tiles have a lot of information tucked away. For example, you can change the account balance and due date by clicking on the underlined white text.
You can also record payments by clicking on the Pay button. A pop-up window will appear, and you can set the payment amount and payment date. The green checkmark means that the debt account has been paid for the current month.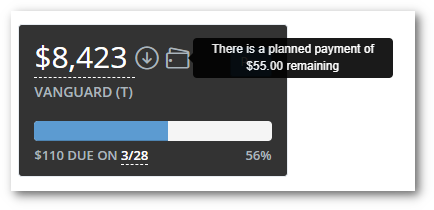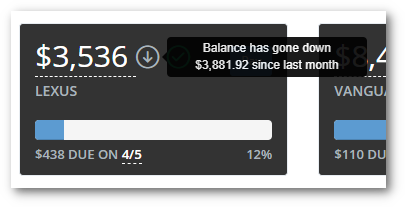 The icons on the tiles have some hidden info that pops up when you hover over them. The wallet icon will tell you how much is remaining on the scheduled payment on this account for this month. The up/down indicators tell you the difference in the balance versus last month.
Step 3: Debt Payoff Plan and More
The third step is where you can change your debt payoff method and choose if you want to see the plan for the current calendar month or starting next month. The Calendar View button (Undebt.it+ accounts only) will show you a pop-up calendar view with your full payment plan.
You can download your debt snowball table to Excel. Google Sheets will open the file as well.

Everything Else: The Debt Snowball Table, Stats and Graph
The last section contains the full debt snowball table and a summary view of your debt accounts. A debt payoff projection graph shows the planned progress of each debt account over time.
Wrapping Up
That's all there is to it! Pretty easy, right? You can check out the Easy Mode any time you want. It's located on the left hand menu at the top. If you like it and want to make it your default landing page, just head over to the My Account page and change it there.