New Feature: Automatic Minimum Payment Adjustment
General Info & Background
There's a new feature that has been turned on today that allows Undebt.it+ users to automatically adjust the monthly minimum payments due on debt accounts. The way it worked before was that you would set the minimum payment on an account and it stayed the same each month until it got included in the snowball and ultimately paid off. What the new feature does is make the debt snowball payment plan more accurate if you truly want to pay the minimum amount on certain accounts.
Most banks (in the U.S. at least) calculate the minimum payment due based off a certain percentage (usually 1%-3%) of your account balance. Some banks also add the months accrued interest to that amount too. Undebt.it supports both of these methods. There is also usually a "floor" that the minimum payment never falls below, like $25 in most cases.
Method #1 (Use Percentage of Balance): Lets say we have a credit card with a $2,000 balance at a 16.5% annual interest rate. Here's how the minimum payment is calculated:
$2,000 balance * 2% of balance = $40 minimum monthly payment
Method #2 (Use Percentage of Balance + Accrued Interest): Another way minimum payments are calculated is percentage of account balance plus interest accrued (compounded monthly). Using the same account in the example above, your minimum payment is calculated this way:
monthly accrued interest = ($2,000 * 16.5%) / 12 months =  $27.50
$2,000 balance * 2% of balance = $40
$27.50 + $40 =  $67.50 minimum monthly payment
How it Works
To manage these settings, go to the debt details page for each account you would like to be auto adjusted. Towards the bottom of the page, you'll see a new section called Monthly Minimum Payment Adjustment.
Use the Monthly Payment Options field to control how each account is handled. There are three options:
Do not auto adjust minimum payment
Use percentage of balance
Use percentage of balance + accrued interest
If you choose option #1, the accounts' "regular" minimum payment is used – the one towards the top of the page. It will stay the same amount until the account is paid off or it becomes a snowball account.
The Percentage field is the percentage of the balance that is used to calculate the payment. If you can't find the number the bank uses, you can do some simple math to figure it out by looking at your statement. Using the same example from above, an account with a $2,000 balance and a $40 minimum payment:
$40 payment / $2,000 balance =  0.02 or 2%
The Lowest Payment field refers to the lowest amount the minimum payment will ever be. Usually you can find this amount by looking at your monthly statement. Most of the accounts I've seen are set to $25.
Monthly Adjustments
Every month going forward, your minimum payment due will updated based off of your settings.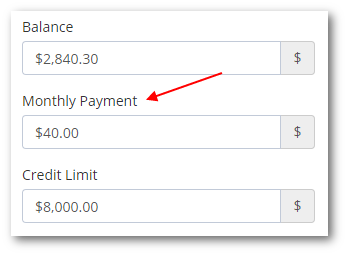 Wrap-up
As always, feel free to contact me if it's not working for you or if you have a suggestion on how to make it better. This is a feature that only Undebt.it+ members will see. If you want some more info or would like to enable the free 30-day trial, go to the Undebt.it+ page. There are some promo codes that are still active if you want to buy a year at a discount – use FBFRIENDS or TWITTER25 for 25% off.